---
Xcaret Ecological Park
Xcaret is an ecological park with many activity options, which is situated about an hour away from Cancun. You will find areas dedicated to the preservation of fauna and flora there, as well as beaches and places to snorkel, but its main attractions are dedicated to telling the history and traditions of Mexico. Among many other unique attractions, there are some must-sees: the underground rivers, where you can swim through tunnels and alongside stone walls, and the stunning natural aquarium of coral reefs.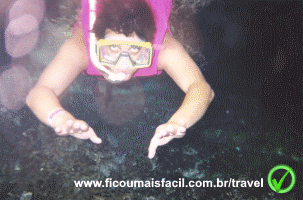 (Snorkel in tunnels.)
There are three underground rivers. Before diving in, you need to inform that you have no heart or health problems, because even though the dive involves minimal effort, at some moments you are inside a tunnel, which means that there are not emergency exits. The blue river is almost completely underground, and in several parts we swim along with bats through the tunnels. The Maya river, on the other hand, is more open area, and it has high walls with vegetation and blue and clear water. The Manati river is interesting because it communicates with built areas of the park, such as a large theater.
As in the Xel-Há park, you can also pay for extra activities, such as boat rides, wine tasting, swimming with dolphins, sharks and rays , among others. If you chose Xcaret or Xel-Há chose, or both like us, it's good to know that Xcaret has a lot more to do, so planning is critical.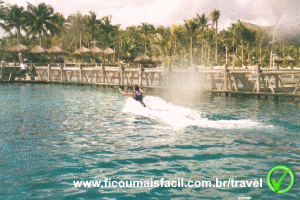 (Pushed by dolphins!)

From these extra paid activities, we chose the one, which involves swimming with the dolphins. There are two possibilities; just stay with legs in the water with the dolphins swimming at your knees level or really dive with them. Of course, the price difference is huge, about 50%. From the people who were on the bus with us, we were the only ones who chose to swim with the dolphins and it was for us, the best spent money of the whole trip. Not only we swam, but we took part in a show with them. They pushed us by the legs, jumped over us, played... well, it was a phenomenal experience!

If you have to choose one of the parks, remember that although they are very similar, there are differences between them, such as costs, distances, and activities offered. However, both Xel-Há and Xcaret have advantages and disadvantages. It all depends on your profile, travel time and budget available. We think that Xcaret the better, but we had a great time on both.

TIP: See the Comparative Table: Xel-Há x Xcaret.