---
Tulum Ruins
Tulum is two hours away from Cancun by car. They are the most photogenic ruins of Mexico. There are small temples and houses of an important Mayan port town, which can be photographed against the turquoise water of the Caribbean. South of the ruins you will find a beach that stretches for over 13 miles (20 kilometers), up to the wildlife sanctuary of Sian Ka'an, a protected nature reserve.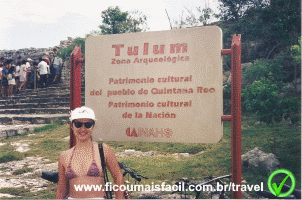 (Lots of ruins!)
The electric power system does not reach the coast, however, that did not stop it from being occupied by small hostels, some of them quite charming and others just cheap. These cheap options call themselves "eco" and instead of air conditioning or TV, they offer... yoga. The energy generator is oil or wind. The water is not always hot, not at least for the 24 hours of the day. The beach is awesome for taking a walk. They reminded us of Bahia's (a Brazilan state) Praiões (long beach areas), but with the Caribbean Sea.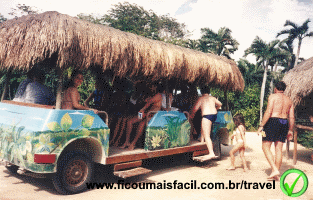 (Endless pleasure.)
Throughout the tour, we had the company of a guide who took us to the ruins and told us the story of the Mayan people who lived there. We chose to drive from Cancun and return on the same day, but I believe it would be very interesting to stay there. The scenery is wonderful! The water looks like a very well treated swimming pool. No words can describe! They told us there that some takes from the movie The Blue Lagoon were filmed there. However, as I had been to other places where they told us the same thing, I do not know. Nevertheless, it could definitely be true...