---
Isla Mujeres
With 33 miles (53 kilometers) in circumference and 9 miles (14 km) long, Isla Mujeres is the largest island of Mexico. Its inland is covered by vegetation and rock formations with some tracks. Isla Mujeres is located 12 miles (19 kilometers) away from the coast. It has developed a suitable structure to receive visitors, and it is already one of the most sought after destinations in the region. It joined the international tourist scene in 1961, when worldwide famous researcher and French filmmaker Jacques Cousteau showed its amazing corals to the world.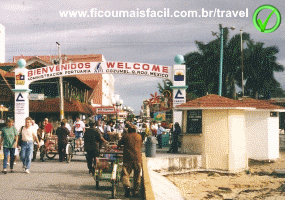 (City Entrance)
We went to Isla Mujeres on a one day round trip from Cancun. We already knew what we wanted: to dive. My husband is a diver and as I always made company, I usually had to wait on the boat. That meant, I always got sick. This time I decided to go down with him. It was my baptism which means my first dive in diving jargon. I made a required course and faced the challenge. I loved the experience! I recommend. The diving there is a large local attraction with its beautiful coral and a unique opportunity if you have never dived before. Even as a world- famous diving destination and easily accessible, the variety of diving spots is such that there is no major congestion underwater.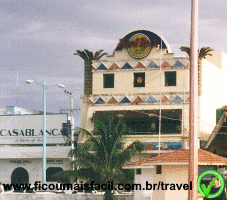 (Hard Rock Café)
There are basically two categories of tourists in Isla Mujeres: divers and cruise passengers who arrive on big ocean liners almost daily. While the large second group has guaranteed accommodation in the cabins of ships, the first group has at its disposal a wide range of accommodation, from extremely cheap hostels downtown San Miguel, the only town on the island, to the luxury hotels and resorts by the sea.
You can find Hard Rock café and Planet Hollywood there.