---
Chichén Itzá Archaeological Park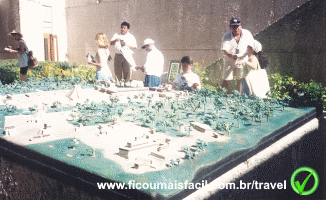 (Model of the area at the Park entrance)
Chichén Itzá was the capital city of the Mayans, and that's why it is so important to the history of the country. It is the most famous Mayan archaeological site in Yucatan, and it was declared a World Heritage Site by UNESCO and one of the "Seven New Wonders of the World." It covers an area of 40 square miles (6.5 square kilometers) that can be visited in just a day if you are staying in Cancun. The sights and most impressive structures of Chichén Itzá are located in the central region. You will find the Ball Game, temples and the spectacular Kukulkan Pyramid, a huge 82 foot tall (25 meters) stone that represents the Mayan calendar. It is known that the balls used in the game were very heavy and had to be passed through high rims, which today are still well-maintained. Be sure to take pictures these of places and clap your hands at different places in the ball field and near the pyramid - the sounds vary, but the acoustics are amazing.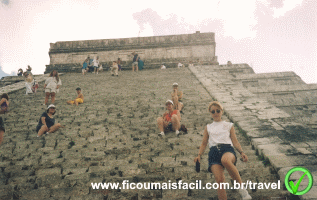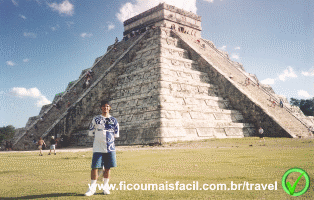 (Kukulkán Pyramid in Chichén Itzá)
It is very, very hot in Chichén Itzá and you will have to walk a lot under the blazing sun all the time. There are almost no trees throughout the city. Wear comfortable shoes and clothes and buy a bottle of water at the park entrance. It is also a good idea to wear a hat, umbrella or cap and plenty of sunscreen . You will see many handicraft sellers inside and outside the park, with great prices. It is definitely worth buying some souvenirs . as I didn't know, I ended up having to buy a cap which I have never used again. I thought I was throwing money away, but it was necessary. So be sure to take your own.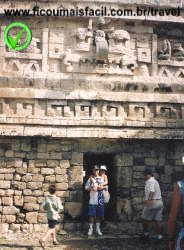 (Refreshing at one of the rare shades!)