---
OFF THE TOURIST TRAIL
Trip highlights: GREECE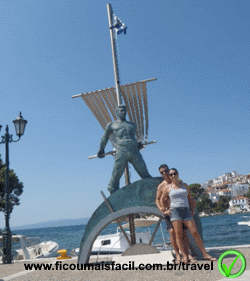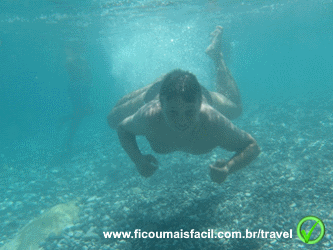 (Beach and Sun. Perfect Combination.)
The selection of this destination, once again, was very unusual. I like to talk about how we feel during our trips and how any destination pleases us. That's because there is only a simple reason why we travel: WE LOVE TO TRAVEL!
We were a group of four close friends, who the escorts, added up to a party of 6 adults. The initial idea was to go to Las Vegas, later on we almost booked a hotel in Kenya. We only didn't go there because the hotel we wanted run out of vacancies by the time we decided to make the reservations. At last, we ended up in Greece. In other words, nothing like the initial idea... All we knew was that we were going to travel, period. This kind of planning is delightful! Until we finally decided to go to Greece, many meetings took place, with a lot of beer, snacks and lots of laughter. There we were, with the globe on hand our hands choosing where to go. Unfortunately, one of the friends was not able to travel with us, so there were only two couples on the trip.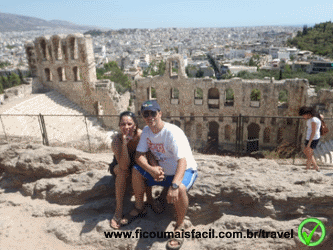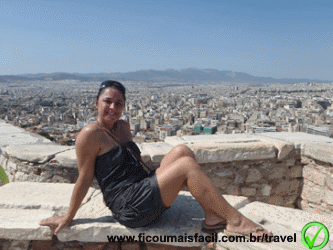 (Dazzling scenery!)
Athens is wonderful! All the islands we visited were spectacular! We took the widely recommended, but the highlight in this post goes to a special island: Skiathos. No travel agent will tell you this island, especially if you are in Brazil, at least until you visit our Weblog. This is an island off the tourist beaten path, but it is a favorite among the Greeks. We ended up there because we liked the picture and information of an exotic hotel we read about. That is, the hotel caught our attention, later we discovered which island it was. We traveled to Athens and from there we went to the island by ferryboat. What a pleasant surprise we had! We were about to live great experiences among the Greeks. You might find some other European tourists there, but the vast majority is Greek. We love it!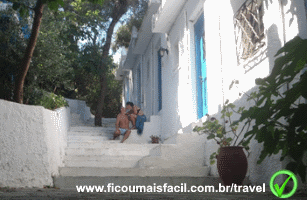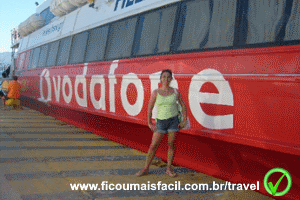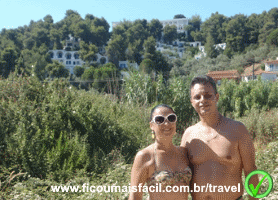 (Hotel pitoresco)
The island itself offers several options of tours. All of them wonderful! Pristine beaches, cozy environments, some of them are more deserted, wide variety of nightlife activities and great beaches. We stayed for a week on this island alone, but we could have stayed longer.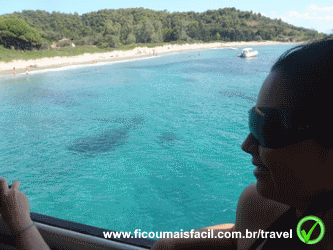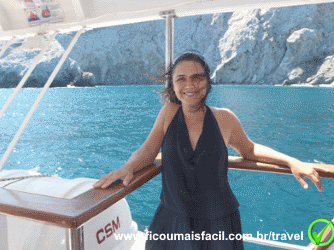 (Unique blue sea)
The color of the sea water is quite different from the Caribbean. Their blue is not as turquoise, it is darker. However it is not less beautiful, it just different because it is transparent. A bit like the Blue we found in Hawaii. And this hue of blue in contrast to the green hue of the mountains and rocks, form one of the most beautiful scenery we have ever seen . Among the tours we booked, Lalaria beach was the most exciting! The beach has no sand but pebbles that massage your feet while you are walking or swimming. It is a rock formation which is the postcard of the island. They don't hurt and the sea water makes such an unusual and delightful sound when they wash the rocks at the beach. It was very exotic for us!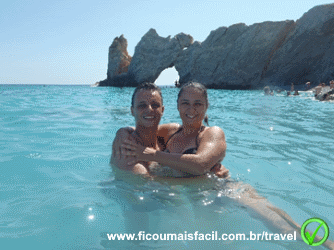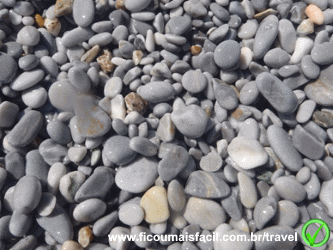 (Lalaria Beach)
The city is very cozy with beautiful and flowery houses. In fact, the island is full of wonderful gardens. Anywhere you go will take you to beautiful places. At night we used to walk in the streets, and go to bars, restaurants and shops. Whenever we went into the stores, the sellers would look at us with disturbing curiosity, puzzled because of our strange language. Since it was not a common sound there, they would ask us where we were from.
A remarking situation that struck me, occurred during a night stroll. As I was going through some island's shops, we were speaking Portuguese and then the shop owner learning that we were from Brazil, told us that the girl of the store in front was Brazilian. We rushed there to meet her. As we approached speaking Portuguese she did not answer immediately and stared at us scared. We noticed that she was trying to recover her Portuguese from "deep inside". She was Sao Paulo, the capital city of the state of Sao Paulo, in Brazil. She was married to a Greek and has been living there for long years. She asked us how we found Skiathos, noting that Brazilians never went there. It was kind of funny, because not even we knew how we had gotten there... then we realized that we were complete strangers there.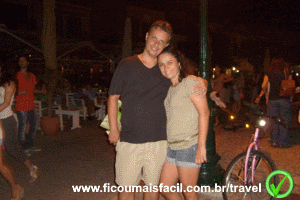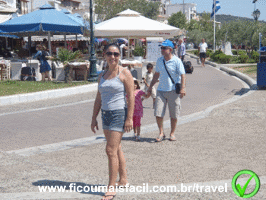 (Two strangers)
The message I wanted to convey with this text is just that. If you like to travel, do not stick only to the destinations offered by agencies and the common places. There are many wonderful destinations that are not on the tourist route. Visit the classics, but be more adventurer... go off the trails. You will be surprised!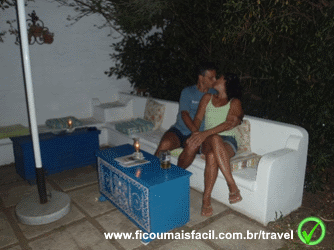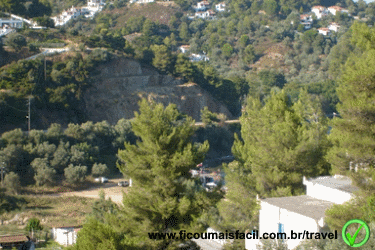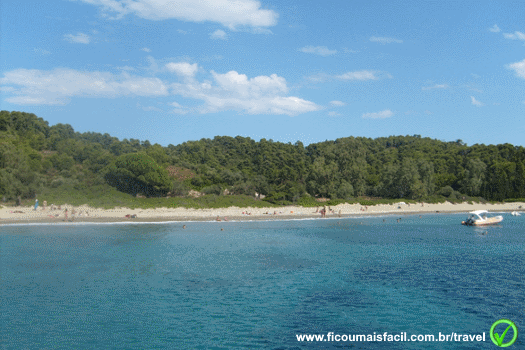 (Surprise yourself!)
Alexandra.