---
CUBA: TWO POINTS OF VIEW
Trip Highlights: CUBA

Cuba for tourists. Cuba for Cubans.
Our first time in Cuba caused us an impression we believe most tourists have about the island. A country different from anything any traveler has ever seen. Cuba has this authentic atmosphere that you probably don't feel anywhere else in the world.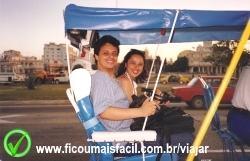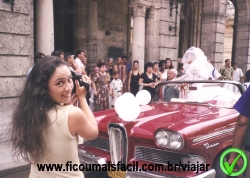 (Riding the "bicycle wagon" - Traditional wedding)
We went to Cuba for a presentation at an International Pedagogy Congress, which takes place in Havana every two years. My husband has always been a left wing man and an admirer of the mystic that Fidel Castro represents. Taking into account what we have always heard about the country, we got somewhat worried about the resources we would have available for our presentation. What a nice surprise! We had state of art technology in an air-conditioned room and all the logistics necessary. And that in 1999!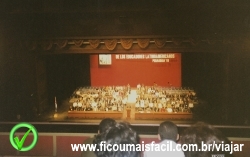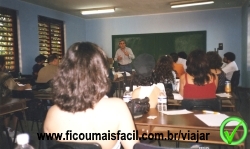 (Pedagogy 99)
When we arrived there, we faced our first thrill. The hotel we had booked and paid for, was completely full. As we were a large group of Brazilian teachers, it was a big mess. Then, a teacher threatened to call the police, and suddenly we realized where we were. The hotel workers got crazy and, almost in tears, begged us not to make such a call. They sent us to another hotel right away. To tell the truth, a much better hotel than the one we had reserved. The new hotel was a much newer five star. There was luxury and plenty good food. One of the best in Havana. We were not expecting so much!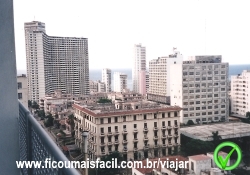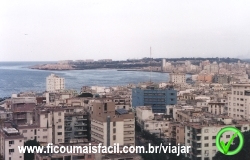 (Vedado area - Havana)
We enjoyed first world tourism in an exotic scenery. We only rode nice new cars, mostly air conditioned Mercedes Benz. The Cuban people riding old taxis falling apart or the "Camelo" (Camel), a wagon pulled by a truck. It is always jammed and there isn't any comfort at all. That made us began to notice the first symptoms of a country divided by ideological theory and economic reality. There were two Cuban Pesos, their money. One for the locals, which was almost worthless, and another, the "Peso Convertivel" (Convertible Peso), used by tourists and associated to the American Dollar. We were anxious to meet the Cubans, however, at any attempt to get in touch, we would hear a whistle from nowhere and they would get away from us. The ones who were able to get closer, would immediately ask for soap and pens. It was incredible! Soap? We also tried all means to ride one of their old cars from the 50's, but we were not allowed. The Cubans were almost inaccessible!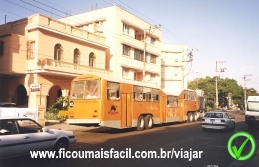 ("Camelo" Mixture of bus and truck)
As we were coming home, on our way to the airport, I still remember the feeling that took over me and I defended for many years every time I talked to my friends. It was a lot of poverty! But a beautiful poverty, for there was no misery. I didn't see people looking for goods into garbage or begging on the streets. We came home marveled and we wanted to know more about the island and its way of living. So, we decided to study in Cuba and then I had the chance to know the real Cuba of the Cubans.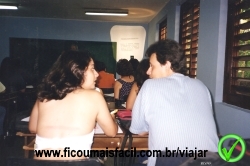 (Reference in Education!)
Then, we went back with a student visa. We didn't stay in a tourist hotel. We slept in apartments in Vila Panamerican, with students from all over the world. We began to get closer to the locals and we made great friendship ties that we still keep. That way, we started to go to the same places the Cubans go, because it is usually separated from tourists... Bars, night clubs, supermarkets, and believe it. even beaches! But, the fact that we were students and were living there, didn't grant us the right to be in these places. I was shocked to learn that there are beaches, which are forbidden for the Cubans. Cayo Largo is one of them. It is a small island that can only be reached by plane and the only Cubans allowed there are the ones working or with a special government license. They are like immigrants in their own country. To tell the truth we were limited to the fantasy world of the tourists. But, as we had made many friends there, we would ride their old cars with them. We had to lie on their floors at night, so the police wouldn't see us. Not that it would be a problem for us, but our Cuban friends could be punished and they were afraid of so.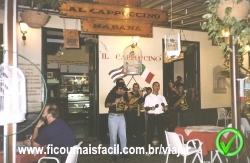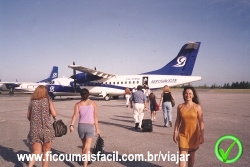 (Cuban bar - On the way to Cayo Largo)
During the first year, we still had the same fascination for everything. We even stayed one evening hearing Fidel Castro talking to our group of teachers, for over four hours. I should confess that the emotion of being face to face with a myth was incredible! But, after a while, hearing the same person talking nonstop, even if that person was Fidel, it get quite boring. We did everything we could in Cuba. We took advantage of everything a tourist could do and we really got into their world. We lived two completely different Cubas. Maybe all these years living with such wonderful people have been one of the most remarkable experience of our lives!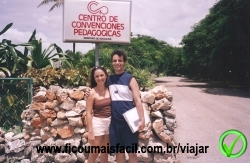 (Studying and having fun...)
For three years, we were extremely connected to Cuba. I remember once, when we were going on a diving trip, the Cuban guide joked with us "This boat belongs to the government, this diving gear belongs to the government, I belong to the government. Everything here belongs to the government. You have been here for too long . And if you stay any longer, you will also belong to the government." We noticed in his voice, a mixture of dark humor, fear and somewhat relief for being able to vent his feelings with foreigners and also a kind of grief for all they have been standing. The system has been cruel to them. The division of the houses, for example, was not so egalitarian. there were some privileges... The "kit" that each family is entitled to monthly, was not sufficient. They had to control what they ate and drank. They did have lack of essential goods! Now we understand they passion for soap. The one that they received from the government for showering was pretty much the same unscented one they used for washing their clothes. That's why, they loved perfumes...
On the weekends, when we went to some friend's houses, they would make the sacrifice of serving us less than a half glass of soft drink, the whole evening, and we noticed that they would not serve themselves any. It was like offering caviar to the visitors. They wanted to offer us their best! They would show us their car in the garage, well maintained, waxed and shiny, but that they almost never drove, because they didn't have money for gas. It was a car from the 1950's that they preserved with pride and longing for the time that they could go out on them... When we asked them about the differences we noticed in the way of living of the Cubans, they would answer in a sad way and tell us about the privileges that few Cubans had or how much better off are the ones whose relatives were able to flee to the United States and this way send them the so eagerly wanted dollars. Or they would tell us about the sky rising prostitution they were facing because people were running after the dollars that would allow them to live with more dignity.
Very often, we would be harassed by Cubans who wanted to marry us so they could leave the country. By the way, remember that state of art technology that was available for us during the pedagogy congress? The Cuban teachers did not have access to them. We saw a sad Cuba!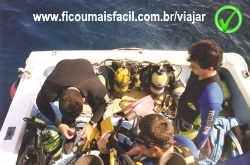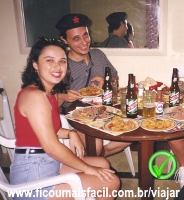 (Diving and Eating at Paladares. Only if you have Dollars!)
Because the engineers and garbage men had doctorate degree, there is no intellectual or cultural differences among them. We were amazed with the knowledge of the people who, theoretically, should be "humble". To say the truth, they knew our history better than us. They know our writers and intellectuals better than the Brazilian people. They are proud of their history, but are also very hurt. They used to tell us stories that we had never heard in our books nor in our history classes...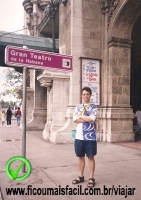 (Very Cultural!)
If you are thinking about travelling to Cuba, read about places to go and suggestions for those visiting the country described in our Weblog. And remember, if you hear about the island from someone, ask the person how long he has stayed there and where he had stayed. The answer of how Cuba is could be quite different. Anyone who spends just a week there and sleep in a nice hotel will meet the Cuba its government is willing to show.

Alexandra.