When deciding to go to the crystal blue waters of the Caribbean, the options are numerous. But for Brazilians, Cancun, and Punta Cana more recently, are the first destinations on the list.
Although the spectacular scenery is quite similar, both destinations offer many different opportunities. We will try to help you make this choice, describing what each place can offer.
The first difference that I will highlight is the attention to the time you have available for such trip. If it is a week stay, you have two possibilities in Cancun: get into a frenetic rhythm of fantastic tours such as "Tulum ruins", "Xcaret", "Chichén Itzá", "Isla Mujeres", "Xel Há", and "Cozumel, among many others. Or choose to enjoy the city itself and its beaches that look like big blue swimming pools, and a nightlife that does not stop.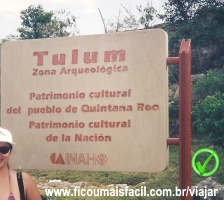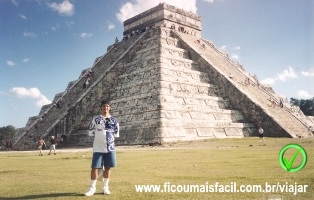 (Chichén Itzá)
We went on all these tours and we will describe one by one. But by the amount of choices, you can notice that in a week, either you take the tours or you enjoy Cancun. Each option offers a unique experience. We were fortunate to stay for two weeks, then during the first week we got wasted on the tours that are always filled with endless beauty, joy, animation, music and tequila, of course! And on Monday, we enjoyed the resorts with their huge pools by the sea. And what a sea!
Talking about Punta Cana, it does not offer such diversity of tours, in which you need to spend a whole day with them. You will need to spend a day to go to Saona Island, which is an irresistible tour. Dominicans say the movie "The Blue Lagoon" was shot there, but when we were in Tulum, we were told the same thing. Anyway, I do not know where it was shot, I believe it was really shot in Fiji, but that both areas are similar to the scenery of the film. You will not find the wild excitement of Cancun in Punta Cana, but has an impressive blue sea! Then, a week is enough to enjoy the city and its landscape, once the city itself has nothing much to offer. What we have left, is to enjoy the all inclusive resorts, which is very a very good idea, as you will not go around much...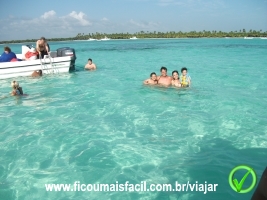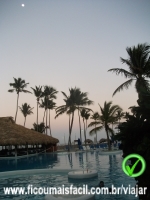 (Crystal clear blue sea near Saona Island - Seashore resort at Punta Cana)
In terms of spending, Punta Cana is a cheaper offer. The resorts usually offer the all inclusive system, which means that you will probably only spend extra to go to Saona island, take a boat or helicopter ride and buy some handicrafts. You do not need much money there, and even if you needed, you won't be able to withdraw it very easily. So, make sure you are taking the necessary amount. In terms of Cancun, all tours are very expensive and there are extra charges for some activities which are usually not included in the package, such as swimming with dolphins in Xcaret, which is about $100 apart from what you already paid. But honestly, it is worth every penny. Mexicans are unbeatable in making you have fun, in kindness, in friendliness, and in offering a range of amusing activities. If you decide to stay in town, you will also spend quite some money, because the nightlife will offer many shows, nightclubs and bars, including Senor Frog's, Hard Rock Café, as well as "The City", The Plaza Forum by the Sea, Dady'O, Carlos'n Charlie's, "Los Pericos" where they will turn your head up and throw tequila into your mouth (by the way, even in shops they serve you tequila), among others night activities. Including an array of exotic options, such as the Pirate Night on a pirate ship on open sea, with shows and casino and nightclubs filled with soap foam. Also, make sure to spare a night to go to "Coco Bongo", the club made famous because of the movie "The Mask." Just stroll down the Boulevard Kukulcan, the main avenue at the Hotel Zone, overnight to understand that the city does not sleep. That is, even though there is an all inclusive system, you will spend a lot of extra money in case you want to enjoy all that the city has to offer.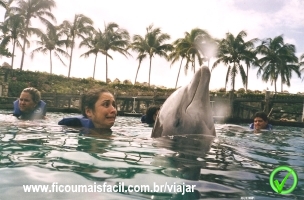 (Swimming with the dolphins in Xcaret)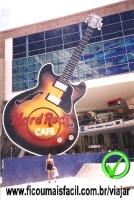 (Hard Rock Café)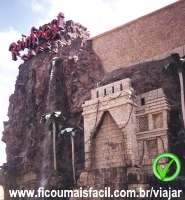 (Rainforest)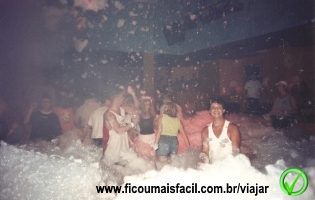 (Dancing and "washing" at the hotel nightclub in Cancun)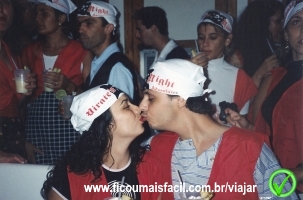 (Pirate Night sailing near Cancun)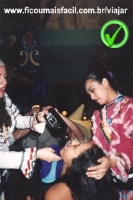 (Crazy night at the frenzy Pericos)
In our case, as we decided to take the tours during the first week, and in most of them the departure time is quite early, we enjoyed the nightlife only on the second week. That way we spent the day just resting on such dream location. Going around in Cancun is very easy. The city is built for tourists, so public transportation is quite comfortable, reliable and cheap.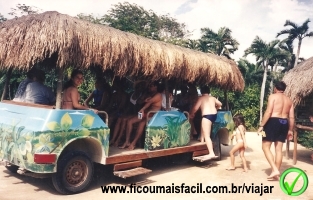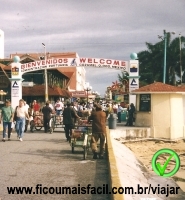 (Visiting Tulum and Cozumel)
Another observation I make is who your travel companions are and what you want from the trip. If you have children, a week in either of the two places is enough. The tours of Cancun, especially due to the cost, not very worthwhile for children, since they are intended mostly for adults. They have fun, but you do not like could free them. On the other hand, in Punta Cana, you don't miss a thing. So if the idea is to rest in a paradisiacal scenery, either Cancun or Punta Cana, will offer your great inclusive resorts. Now, if you want to enjoy everything the place has to offer and is keen to more excitement in addition to the scenery, go to Cancun. But be prepared for a lot of extra expenses. That's what we did: a week in Punta Cana with the kids and two weeks in Cancun only the couple. But we plan to take the boys to Cancun, in a less wild version of the trip.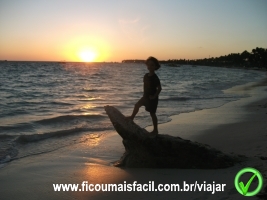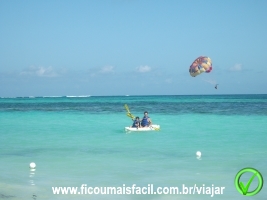 (Watching the sun rise at 5 in the morning - Enjoying the turquoise blue sea with the family in Punta Cana)
Alexandra.