---
FEEL LIKE SKIING? WHERE TO GO?
Trip highlights: TORGON - SWITZERLAND

Skiing on the Swiss Alps.
(Going Downhill)
The selection of such destination was a bold decision, to say the least. We were talking about where to go on the next trip (we always discuss this in family), when my oldest son said he wanted to go skiing. Think about it, a Brazilian family going skiing is not common, in Switzerland, sounds nuts...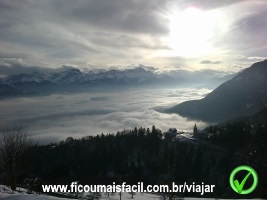 My son had already played with skis on another trip, but was he was a little more than a baby. We got surprised, but my husband said, right away, that skiing had to be in Switzerland. My husband can ski quite well and whenever he could, he found a way to go skiing, therefore, he did not want to go to the United States or Canada, places that would be a more natural option. After all, he already knew well these destinations! To tell the truth, I loved the idea, even though I was imagining myself locked somewhere drinking hot chocolate once I do not like to ski and I have always been in love with summer up to this point.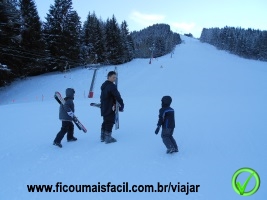 It is amazing, how traveling makes us see things with a different perspective and feel things in a different way. I always come back a different person every time I travel! That's what fascinates me! This time, I learned to love the winter and deal with all those clothes that makes us act like little robots. After a month wearing them and taking care of two children, I discovered that winter can be fun and today, I love to go in search of winters around the world, without any kind of fear. Moreover, winter here in Brazil, does not bother me any more.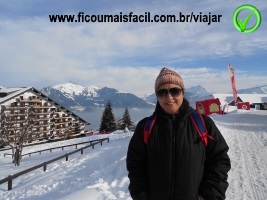 Ok! Destination is decided. Let's go skiing in Switzerland. So, we started to look for ski resorts and hotels there. During this research, I saw a picture of a mountain resort and at that point I decided: I wanted to go there. On the mountain , in the middle of nowhere ... We're going to Torgon.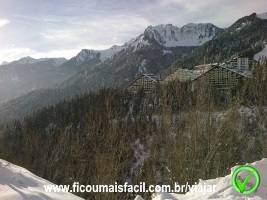 The peaceful village of Torgon is situated almost a mile above sea level and dominates the Rhone Valley and Lake Geneva. From the top, you can see the clouds veiling the entire city Vionnaz (pictured below, the city is under these clouds ). With a privileged location, the town is close to Montreux and Aigle, just 45 minutes from Lausanne and 75 minutes away from Geneva.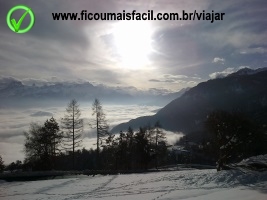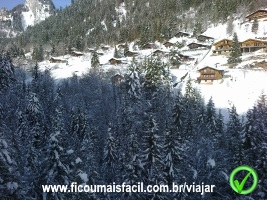 You can go up the mountain by car or take a bus in front of the post office. Because we went in winter, we decided to take taxi. Besides, we arrived there around 9:00 pm . The bus only makes a few trips up the mountain and we missed the last one. The only option, at such time, is to go up by car. Fortunately, it was not snowing at the time, because the road is long, narrow and has many sharp turns. The driver was a Portuguese guy and he was surprised to find us there because it, definitely, is not a place sought after by Brazilians. But, as we love get away from the obvious, we headed there not knowing exactly where we were going or what to expect. Not surprisingly, it was one of the most beautiful scenery we have ever seen!
We stayed a week isolated from the world at the top of that mountain . The always snow white scenery and somewhat deserted, gave a special charm to the place . The best was the ski slope, that people would start leaving at around 3:00 pm. because of the extreme cold, but as my son does not bother with very low temperatures, the father and him, went on skiing until 5:00 pm. with a mountain only for them. As of the youngest one and me, we would go back to our apartment and we just kept on admiring that unforgettable scenery! But in a warm place...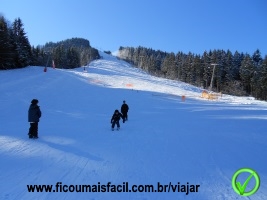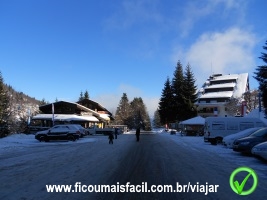 The Torgon was the right skiing choice and I recommend it! As the trails were empty, my son could take his first lessons with his father and in one day he was already going up and down all by himself . The youngest one also learned how to ski, but as he can't stand very low temperatures, he would go inside soon. The coats were adequate, but we were on top of a mountain, covered with ice in the Swiss winter ... not even the Europeans could stand it ... It was a unique experience that the children never forgot. If you ask my children where they want to go or what was the best vacation they had, they will answer without any hesitation: Torgon.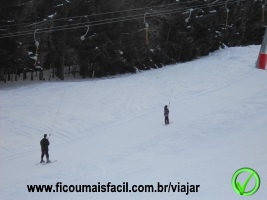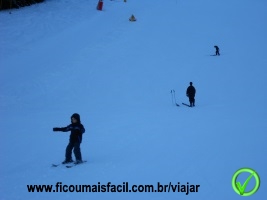 In addition to skiing, we went out walking around the village. There is a bridge that just crossing it is an adventure itself. The pride and glory of the area is the panoramic view that overlooks the Rhone Valley and the Alps area. The children played and had a very good time with the snow. And, when we went inside, we went to an indoor heated swimming pool at the resort which we could reserve for one hour just for our family. So, every day they had the time to play in the pool with complete freedom to jump and scream a lot. There were many children in the resort and in a very natural way, they are interacted with each other, communicating and playing ping-pong. Not to mention that there was a kid's area with monitors and toys for them. It was really a week to relax completely!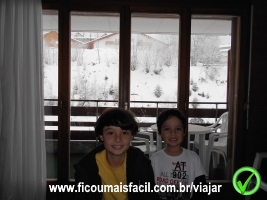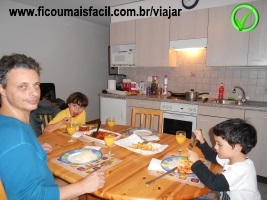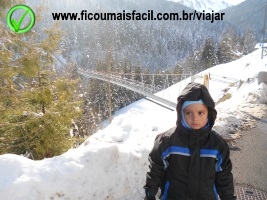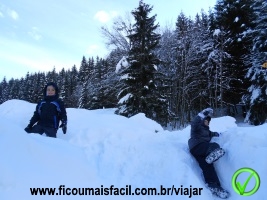 The apartment where we stayed had two rooms with balconies overlooking the Alps, a living room and a complete kitchen. On the first day, my husband went down to the town to buy the groceries so that we could feel at home. There were restaurants and coffee shops, but we only went when we wanted to walk around or eat something different. We had breakfast, snacks, lunch, and dinner usually in the apartment. It is the boy's favorite way of travelling, especially for longer trips. Children do not stand hotel rooms for a long time, so whenever we can, we choose those apartments. It is a tip for those who plan to travel a longer period with children.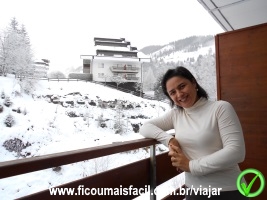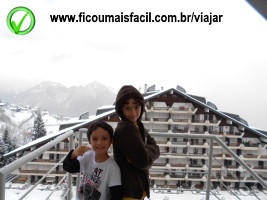 Alexandra.