---
Havana
Havana, the capital of Cuba, is the largest city of the Caribbean, and one of the richest towns in world culture. The value of the colonial past of the city can be seen everywhere, in a dazzling array of cathedrals, mansions and museums. The historic district of Habana Vieja (Old Havana) is a fascinating place that is classified as a UNESCO World Heritage Site, with more than 900 monuments, including the Presidential Palace and the Cathedral.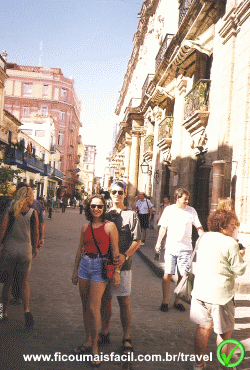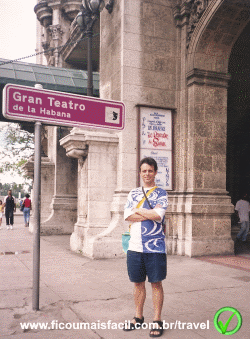 (Old Havana - Great Teather)
If you like to travel to historic cities to see how things were in the past and learn a little bit of history, do not worry, you will literally have the feeling that you went back in time in Havana. The first impression of those who visit the city is that you are in a place that was "frozen in time" and remains the same as it was in the 1950's. It is packed with historical buildings, old cars and machines everywhere, which makes the city an open-air museum of antiques.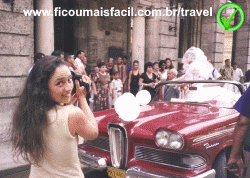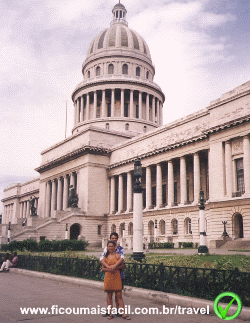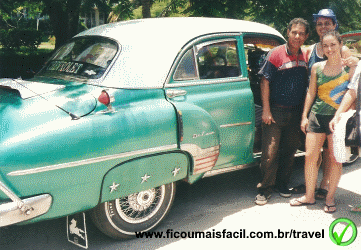 (Old cars everywhere - Capitol building)
Do not try to associate anything you've learned about communism with what is seen in Havana, because you won't be able to. The Cuban regime is not even slightly close to the utopian idea of everybody living in the same way with the same conditions and wages. A little more time in the city and you realize this quickly. Many Cubans live in poorly maintained tight slums. However, even with all the poverty, you will not see anyone going hungry and wearing rags. By contrast, you will see some Cubans in comfortable houses and with much better living standards.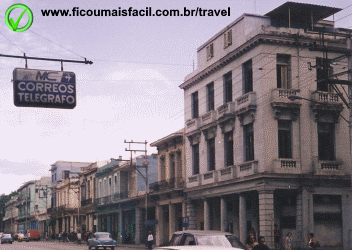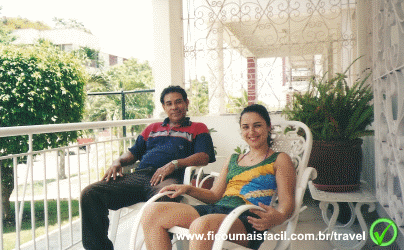 (Shabby old houses - Comfortable houses)
A walk through Old Havana is a must do. Usually, there are police officers monitoring the tourists, so you can stroll safely. Of course, you should never get isolated. You can hear police whistling whenever Cubans try to approach you. Very often, a friendly someone (and Cubans are extremely friendly) approaches and try to start a good conversation. Be aware, usually the main objective of such approach (if it does not get clear at once, you will surely discover as time goes by) is to ask for soap, perfume, money, food, objects, or anything that tourists are willing to give away. Just stay alert and you will notice that these people just hang around waiting for the perfect time to ask for something.
Be careful not to fall into the sweet talk of Cubans who put the price on services and goods according to what they think you can afford. Try to bargain everything. For us, it was great! They love Brazilians! They identify themselves with our people and they know that our currency is worth much less than the dollar, which will lead to a good discount.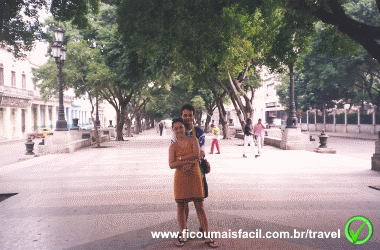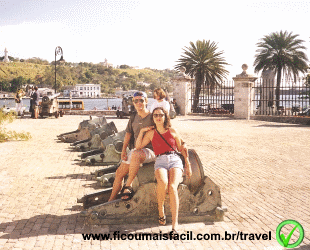 (Walking around with complete safety...)
Women traveling alone or in groups of women should be prepared to hear many pick-up lines and be ostensibly stared upon. Cubans do not miss the opportunity to approach naïve and not so naive tourists. Yes, I was with my husband and I had to deal with a lot of subtle flirting, and, believe it or not, some straight forward ones. My husband could not leave me alone for a second, not even to go to the bathroom. I always tried to be with a friend around to inhibit that a bit ... And I'll tell you, just a bit. And soap opera lovers pay attention: Cubans know all about Brazilian soap operas that they watch on television. In fact, they know about Brazil better than ourselves.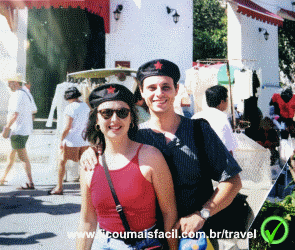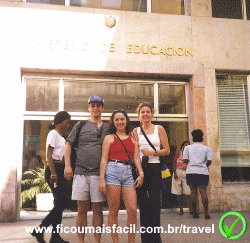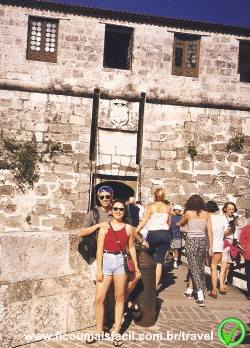 (... but always escorted,)
Do not miss the Plaza de la Revolucion, (Revolution Square) where it is impossible not to feel the strong power of the communist revolution on the island. The square is home to a 423 foot-high (129 meters) tower in its center and where you have the best view of the building of the Ministry of the Interior, with a giant steel outline of the head of the Argentine leader Che Guevara and the phrase "Hasta la Victoria Siempre" (towards Victory, always).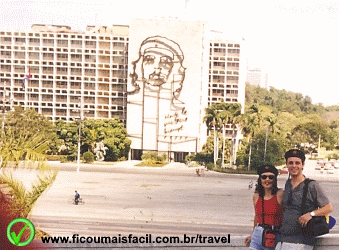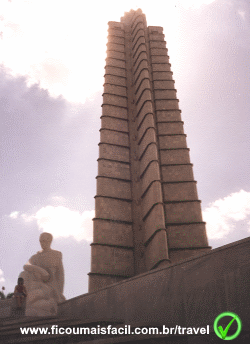 (Plaza de la Revolución)
Lose yourself around Havana and its alleys. Taste the dishes on "Paladares", home based restaurants whose name is due to the Brazilian soap opera "Vale Tudo" in which the character Rachel Accioli played by Brazilian actress Regina Duarte, ran the restaurant chain " Paladar". Be sure to try the drinks made with the legitimate Caribbean rum in any of the memorable bars of the city, especially La Bodeguita del Medio, where the delicious Mojito was created, and the La Floridita, both assiduously frequented by the American writer Ernest Hemingway.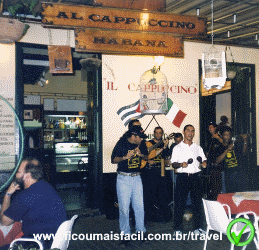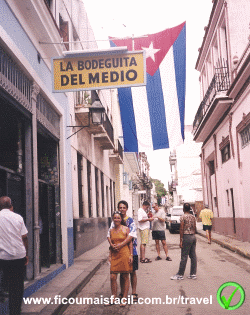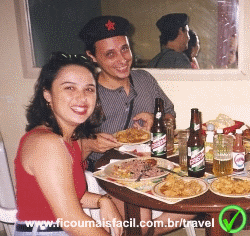 (Dançe, drink, eat, have fun...)
(Cuban bars - Eating at a Paladar)
Finally, take the time to walk along the Malecon Avenue during the sunset. After all, the main attraction of Havana is the city itself. Walk a lot! The love of Cuba for music and dance is revealed in clubs, cabarets and impromptu salsa on the sidewalks. You will always come across people singing and dancing on the sidewalks. And ladies smoking cigars with exotic clothes. But don't be fooled! When trying to take a picture, they will get angry and charge a dollar for it. Take a bike ride guided by a Cuban, ride a coconut taxi (an orange scooter for three in the shape of an egg) and keep a watchful eye on the movement of the streets. You may be surprised at unusual scenes and situations. Allow yourself to forget about time. Regardless if you don't have enough time to stop and observe, feeling Havana for a day will result in a unique memory experience.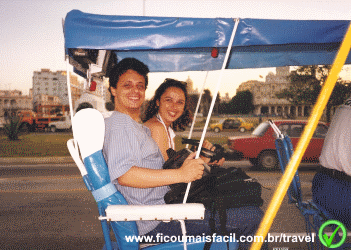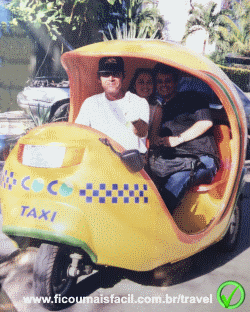 (By "bicywagon" or Côco Taxi (coconut taxi), doesn't matter. Just go!)