---
Valparaiso
(Public transportation.)
Valparaíso is situated about 70 miles away from Santiago. As we were staying in Viña del Mar we took the opportunity to visit Valparaiso. We went on our own by public bus. I do not believe it is necessary to hire the services of a travel agency. It is very easy to reach!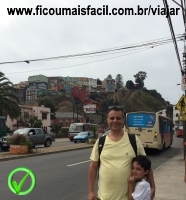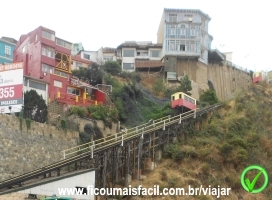 (Artilleria cable car)
A must-see attraction is unquestionably the Ascensor Artilleria, a cable car that connects the Plaza Wellright from the bottom station to the Paseo 21 de Mayo, at the top station. Opened in 1893, it covers a distance of about 200 yards on a 30 degree slope, reaching a height of about 90 yards. There two cars, each with a capacity of 25 people. As one goes up, the other comes down at the same time. I confess I felt as if it would fall at any moment ... It seems old and shabby. Nevertheless, it's quite exciting!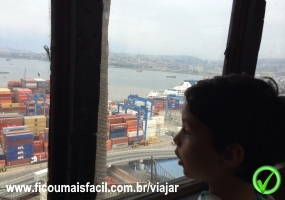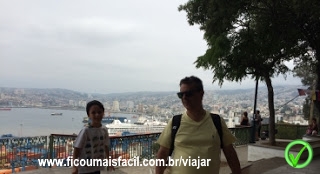 (Paseo 21 de Mayo)
On the top of the hill, you will find Paseo 21 de Mayo, the main viewpoint of the city. Wonderful! A beautiful panoramic view of the entire area and of the port of Valparaiso which is right in front. There is an arts and crafts fair with many kiosks selling souvenirs and other stuff at affordable prices. A temptation!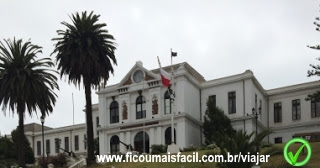 (Naval and Marine Museum)
Next to the Paseo is the Museo Naval y Maritimo, which depicts the Chilean history, focusing mainly on great voyages, including the Pacific War, complete with several perfect replicas of ancient vessels.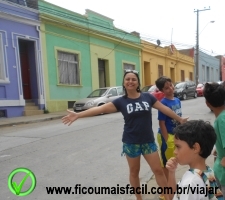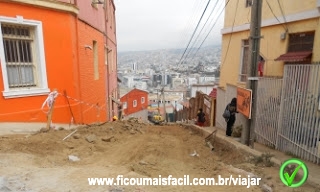 (Valparaiso alleys)
We walked around through the narrow streets of the hill, to see the colorful houses and feel the atmosphere of the place, but we did not go too far into the alleys. Actually, it looks like a large slum, because of its high hills and crowded houses. But it's just their way of living. Almost the entire population lives in houses scattered throughout the 42 hills. As we strolled on, we came across interesting things, like a couple dancing Tango in the street.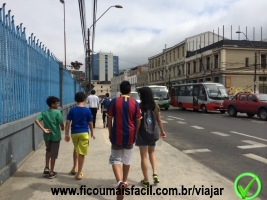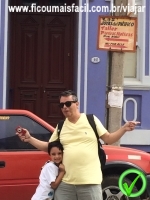 (Farewell!)
It's a very exotic city! Even though it is dirty, messy and smelly. In my opinion half a day is enough to explore the area and I confess I was a little apprehensive there. We had planned to stay longer, but we changed our minds.